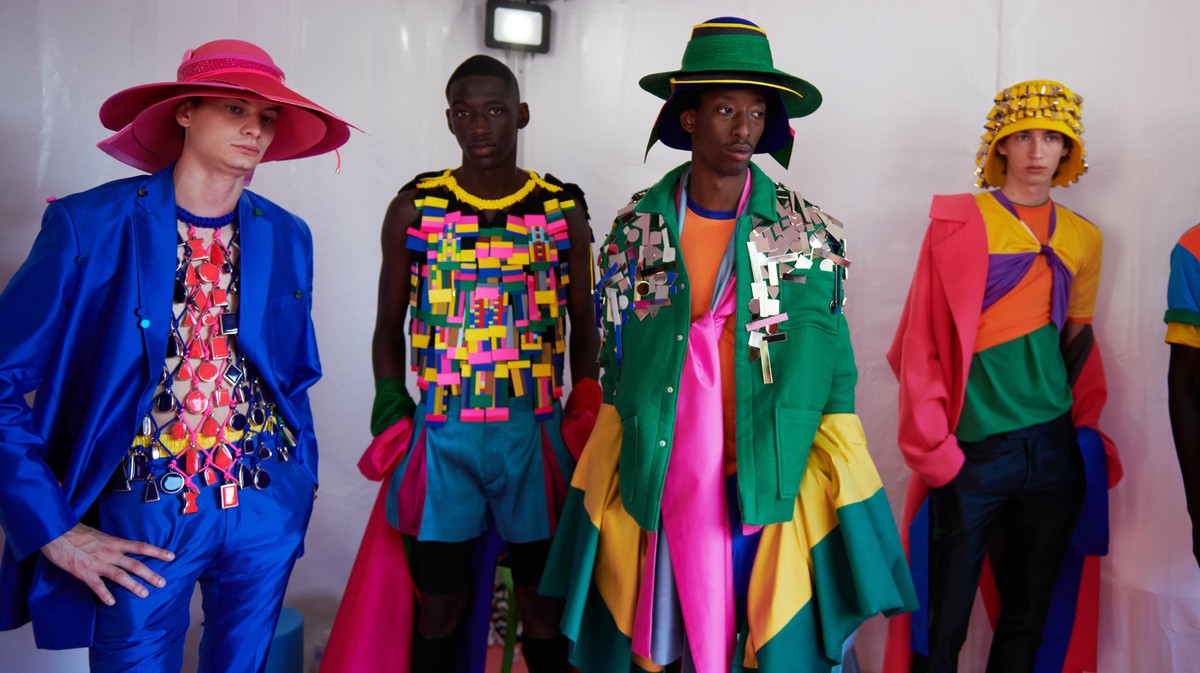 From the outskirts of Paris to the French Riviera and beyond, the crafty net cast by Chanel's Métiers d'art program is getting wider and wider, as the house prepares its new building, le19M, to host the Chanel 2022 Métiers d'art pre-fall fashion show on December 7th. An imposing new presence on the Place Skanderbeg in the 19th arrondissement of Paris, the Rudy Ricciotti-designed complex will accommodate 11 key ateliers from the 40 housed under Chanel's Métiers d'art umbrella, as well as a community garden and revolving gallery space designed to celebrate the wealth of tradition and innovation kept alive by the initiative. 
Nowhere has that been more evident than at the 36th edition of the Hyères Festival of Fashion, Photography and Accessories last weekend, where emerging fashion designers collaborated on a plethora of artisanal projects with the house's illustrious Métiers d'art workshops to complement their ready-to-wear designs. Taking place in the Robert Mallet Stevens-designed Villa Noailles, built in 1927 high above the town of Hyères, the festival has been a launch pad for designers from the likes of Botter and Paco Rabanne's Julien Dossena to Viktor & Rolf.

Chanel's involvement in the festival stretches back to 2014, and was crystallised in 2015 when Karl Lagerfeld creative directed the festival, while Virginie Viard presided over the fashion competition as jury president. Six years later, the house has installed their Métiers d'art program as a veritable crutch for young designers, pairing each of the 10 fashion candidates with one of their workshops to produce an accessory or garment to complement their collection. Furthermore, the prize winners of the Fashion Grand Prize, the le19M Chanel Métiers d'art accessory prize and the Accessories Grand Prize winner return from the previous year, revealing the evolution of their craft projects in a dedicated exhibition.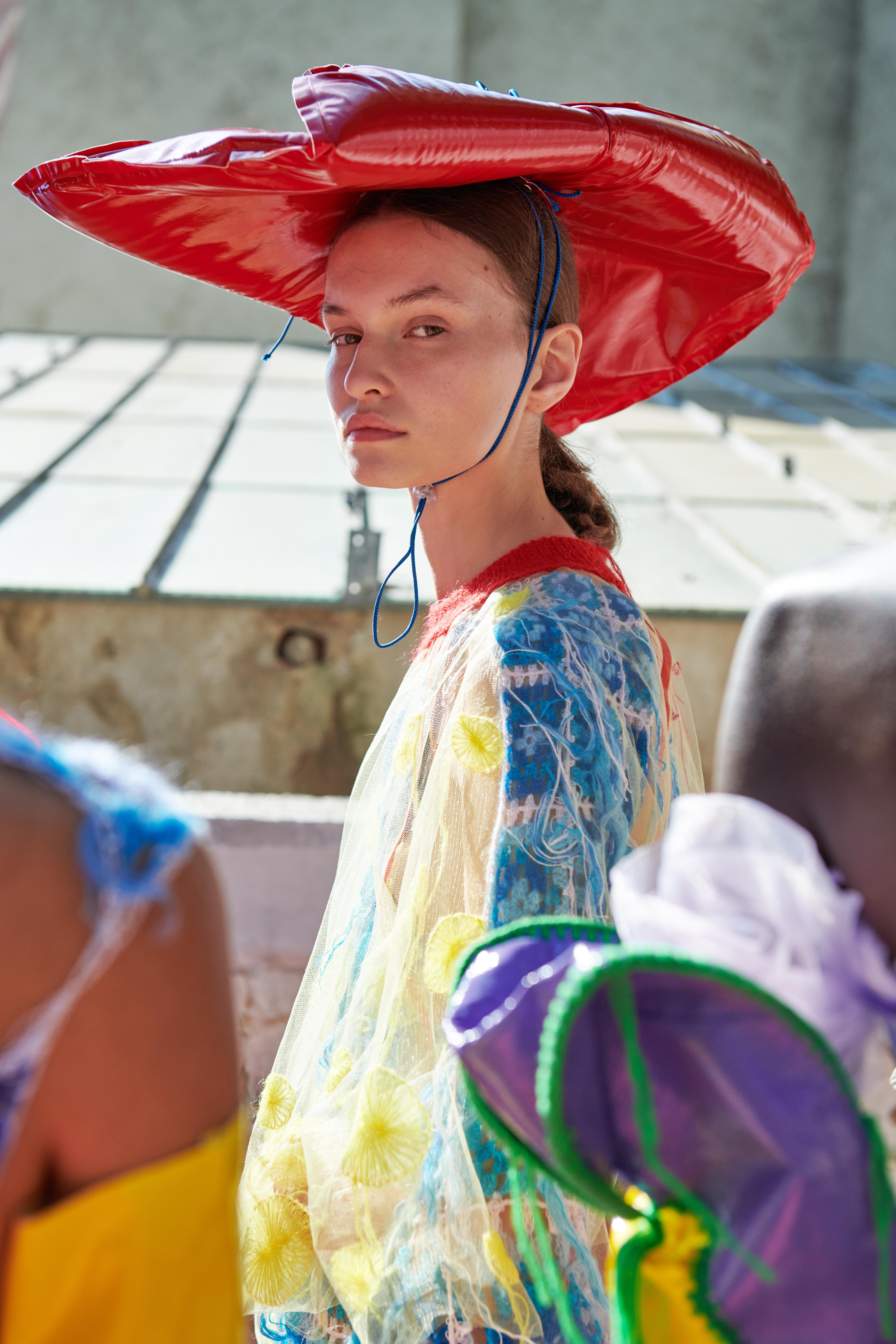 Peppered throughout the fashion collections of candidates from as far afield as Thailand, Latvia, China, Switzerland, Finland, Taiwan and Columbia, the Métiers d'art projects for 2021 were as diverse as the subject matter examined by each designer, with creations that spoke of the past, present and future in surprising ways. Exciting to discover yet impossible to compare, designers dreamed up a cornucopia of objects, with everything from Arttu Afeldt's military backpack in industrial-grade Dyneema thermoplastic stitched by the flou workshop Atelier Paloma, to a naive pair of plush toy bracelets designed by Venla Elonsalo with bodies or tails cast in bronze by the jeweller Goossens. Whilst some chose to apply techniques to their ready-to-wear, like Sofia Ilmonen's cascading silk tops pleated in petit fleur (little flowers) and accordion pleats by Lognon, others created pieces outright, with highlights including a monumental Fabergé egg bag by Adeline Rappaz, brought to life by Chanel's handbag specialists Ateliers de Verneuil-en-Halatte.
The Paris-based Thai designer Rukpong Raimaturapong took home the le19M Chanel Métiers d'art prize this year, with his jubilant collection of stackable millinery designed in collaboration with Maison Michel – a bright and cheerful project that perfectly accented his menswear collection rich in references and artisanal links to his homeland. Taken by the atelier's mastery of shapes and polished material finishes, Rukpong embarked on an ambitious collection of wide-brimmed visor, fedora and cloche hat shapes in textured felt, Thai silk, and Panama straw finishes sourced from Maison Michel's deadstock archives. "Rukpong went through all our materials and chose them particularly for the association of colours and textures," said Priscilla Royer, artistic director of Maison Michel. "Each decision was thought through. Some of the materials were the last left and won't be produced anymore, some were decades old. He really ticked all the boxes."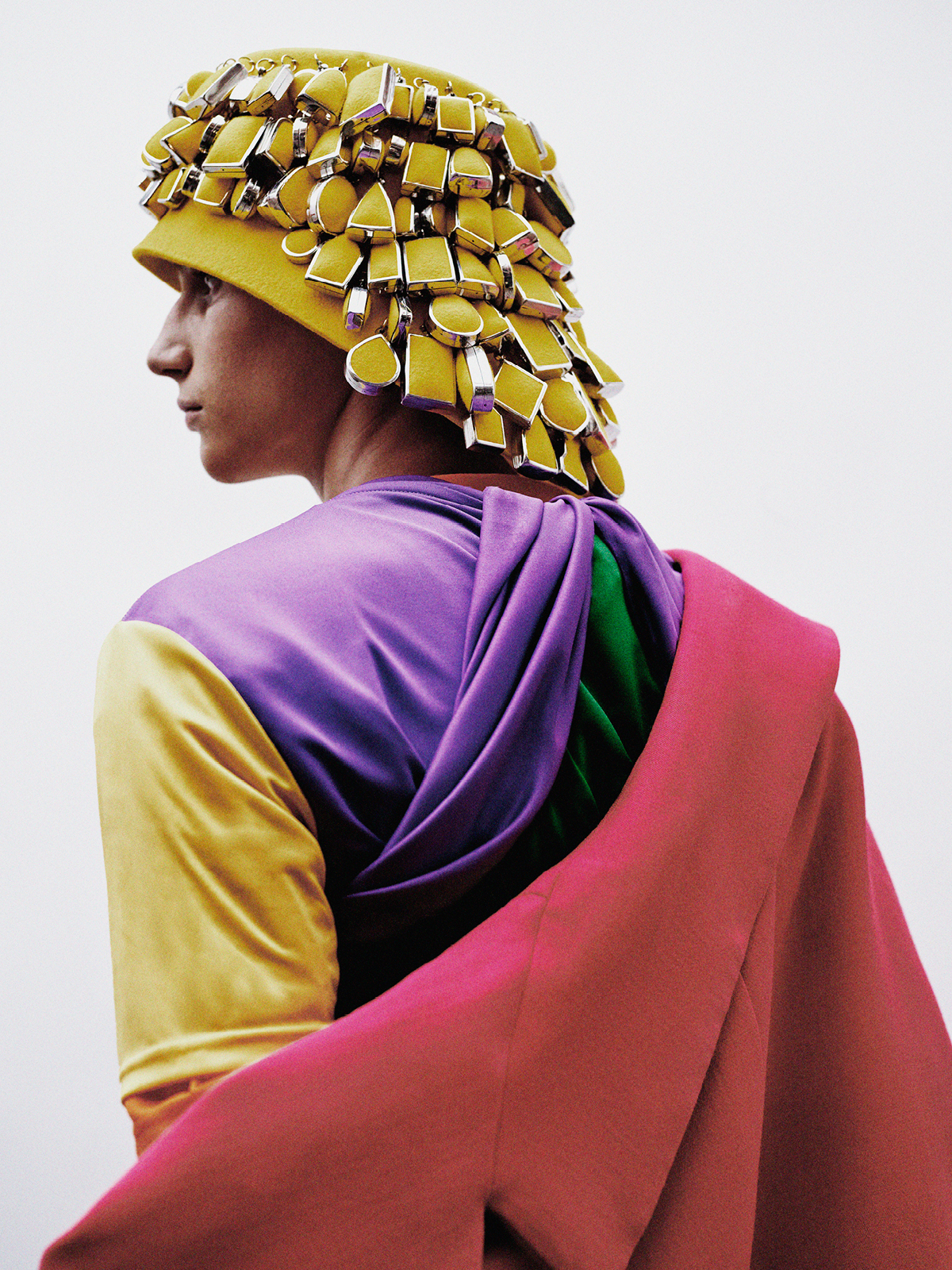 Other notable mentions this year include the Grand Jury Prize winner Ifeanyi Okwuadi, a young London-based CSM student of Sierra Leonean and Nigerian descent whose sensitive menswear collection of dark, distorted sartorial garments caught the eye of Fashion Jury President Louise Trotter, the creative director of Lacoste, and her jury of diverse creatives. Okwuadi complemented his anti-nuclear protest-inspired collection with an artisanal V-neck sweater composed of a traditional knitted body with British wool sleeves, its hemlines accented by lustrous borders of striped 'scoubidou' knotted plastic conceived and executed by Maison Lemarié, who transformed his crochet inspirations with a day-glo touch. Equally tactile, 2020 Grand Jury Prize winner Tom Van Der Borght returned to the festival with a jubilant collection entitled 'Time For Love' filled with primitive iconography, exemplified in a geometric patterned tunic fully embroidered by Lesage and absurd Maison Michel 'double' hats with oversized brims and cut-out eyes, designed to be worn by two people at once.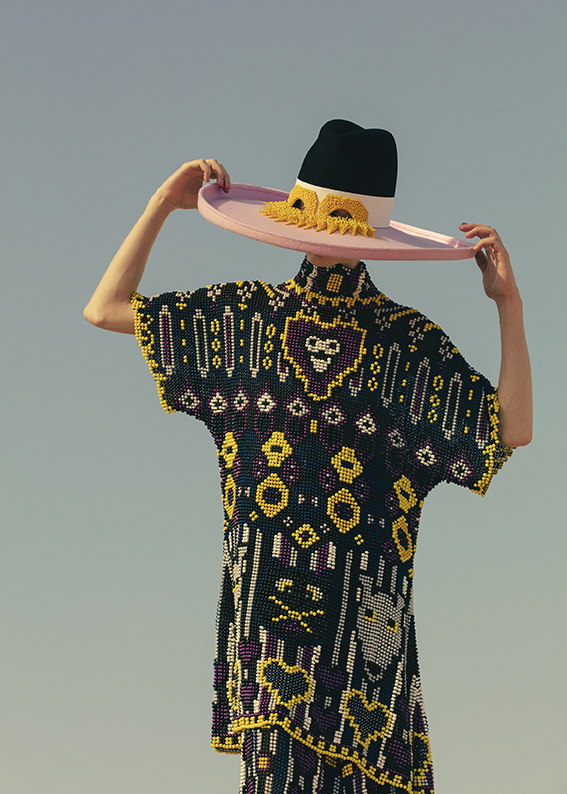 While the exploration of culture and artifice was welcome and thriving across the board, certain projects took on the greater challenge of upcycling and sustainable creation in addition to aesthetics. In that vein, the French designer Emma Bruschi's work with the flou atelier Paloma was a triumph, reprising the themes of her 2020 le19M Chanel Métiers d'art prize collection and culminating in a delicate off-white blouse adorned with ajouré openwork laddering, smocked ribbon sleeves, angelic embroidered pockets, a quilted embroidery collar and frogging buttons. Coupled with ornamental straw and feather earrings crafted by Maison Lemarié with fibres from her sustainable farming practices in the Haute-Savoie region of France, Bruschi's work demonstrated a localist (albeit agrarian) approach to the future of fashion that felt both honest and luxurious, and should not go unnoticed. 
By zooming out on the Hyères festival in the context of fashion prizes worldwide, it is immediately clear that no other young talent program fosters the same sense of community spirit and shared experience as this singular event. From the rich cultural programming of performances and masterclasses to the solidarity of the group fashion show and its fair share of parties, there's no doubt that young designers and creatives leave Hyères each year with much more than prize money and connections. On its levelled playing field, where corporate culture and ground roots creativity play hand-in-hand, they're fed an adrenaline-filled dose of the genuinely collaborative and endlessly chaotic way in which the fashion industry works - even in its highest echelons.