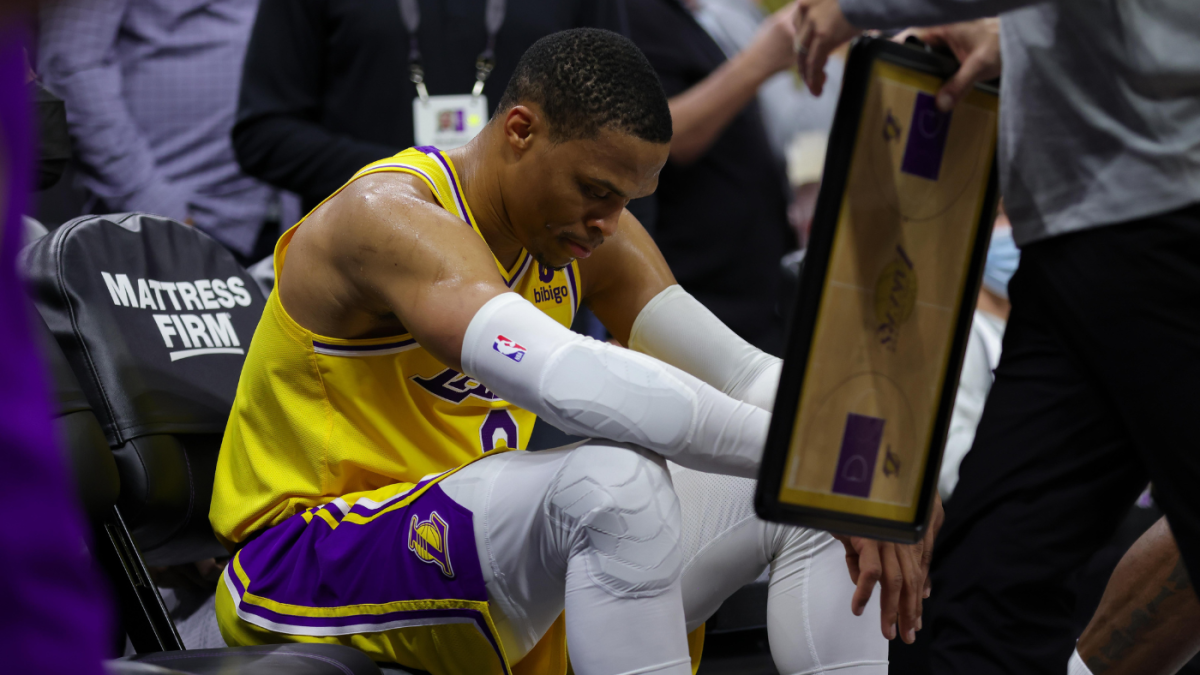 Russell Westbrook is used to being one of the deciding factors in any close game his team plays in. Case-in-point: he leads the Los Angeles Lakers in fourth-quarter minutes this season, and he led the entire NBA last season. But on Wednesday, Lakers coach Frank Vogel took an unusual, but warranted step in the wake of Westbrook's declining play: he benched the former MVP for the final 3:52 of his team's loss to the Indiana Pacers.
The move made sense on paper. In the 342 fourth-quarter minutes Westbrook has played this season, the Lakers have been outscored by 34 points. In the 198 minutes that Westbrook hasn't played in the fourth quarter, the Lakers have outscored their opponents by 50 points. Yet the move was still surprising given its political implications. Westbrook is not only one of the most accomplished players in all of basketball, but his acquisition was personally lobbied for by LeBron James and Anthony Davis. When the best players on your team stand behind someone, benching them is extremely difficult. It's made all the more difficult when that player is as prideful as Westbrook.
But the nine-time All-Star is doing his best to take the move in stride. He acknowledged that he was "surprised" in an interview with ESPN's Adrian Wojnarowski, but was "more disappointed that we lost the damn game." As frustrating as the decision was, Westbrook is living with it and tried to make it clear that he has "done everything that's been asked of me here," but he still has to improve if the Lakers are going to reach their goal of winning a championship. 
"I want to get better as the season goes on, and I've got to take responsibility for the things I'm doing and how I'm making those around me better," Westbrook said. "We have a legitimate chance to be able to win it all, and to do that, I'll have to be better -- and I know that I will be."
CBS Sports HQ Newsletter
Your Ultimate Guide to Every Day in Sports
We bring sports news that matters to your inbox, to help you stay informed and get a winning edge.
Please check the opt-in box to acknowledge that you would like to subscribe.
Thanks for signing up!
Keep an eye on your inbox.
Sorry!
There was an error processing your subscription.
The entire team is in an extremely precarious position right now. Vogel is reportedly coaching for his job. Westbrook is shooting just 30.2 percent from the field across his past four games. The roster is in a state of flux with the trade deadline approaching, and Davis remains sidelined with a knee injury.
There are no easy answers here. If Vogel needs to win to save his job, he's going to disregard politics and play the players he thinks are going to win. That means that Westbrook will need to earn the minutes that were once a given for him. If he isn't better, the Lakers are going to treat him like the player he is now rather than the one he's been for most of his career.