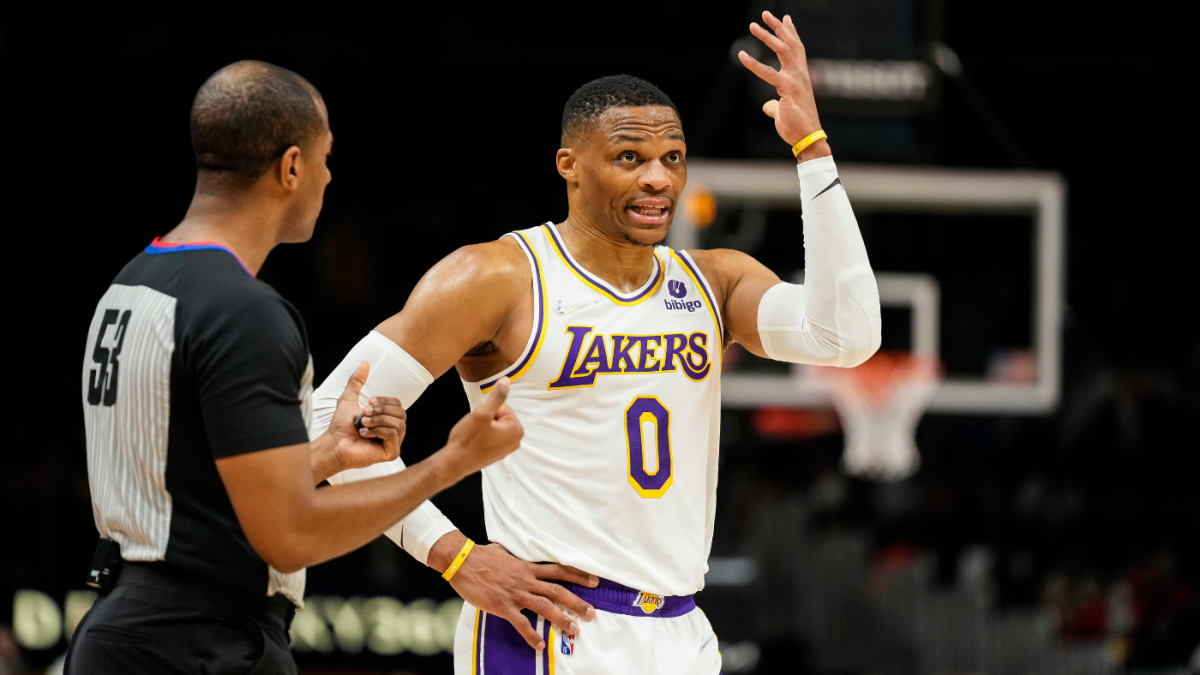 The Los Angeles Lakers' post-All-Star break blues continued on Thursday night, as they were crushed by the Los Angeles Clippers, 132-111. That was the fourth straight loss for the Lakers since play resumed and their 16th defeat in the last 22 games. As a result, they are now 27-35 and clinging to a spot in the play-in tournament.
Such a brutal run of form has left everyone searching for answers. While injuries have played a major role -- Anthony Davis is still sidelined due to a foot injury and has only played 37 games this season -- it's clear this team is broken in a way that goes beyond health concerns. 
At this point it's fair to wonder if drastic measures are necessary to try and get the team back on track. To that end, Lakers head coach Frank Vogel was asked following the loss to the Clippers if he has considered bringing Russell Westbrook off the bench. "We've talked about everything," Vogel replied. In a follow-up question about whether such a move could happen in the near future, Vogel said again, "we've talked about everything."
So though he did not explicitly say the Lakers are planning to take Westbrook out of the starting lineup, it's noteworthy that he did not refute the possibility. That in itself tells you all you need to know about how the Westbrook experiment has gone for the Lakers. In a league where star players run the show, it takes an awful lot for a coach to think about benching a former MVP and nine-time All-Star. 
For the Lakers, things may have reached that point. While Westbrook is still putting up decent numbers at 18.1 points, 7.7 rebounds and 7.3 assists per game, he simply doesn't fit on a team with LeBron James -- especially at this stage of both players' careers. It didn't make sense on paper when the trade was first announced, it has looked even worse in practice. 
Westbrook is not a threat off the ball -- he doesn't cut or move much and is shooting 28.1 percent from 3-point land -- and putting it in his hands takes it away from LeBron. His poor defense only makes things worse. During this recent 6-16 stretch, the Lakers have a minus-10.1 net rating with Westbrook on the floor and a plus-2.7 net rating when he sits. (For what it's worth they've also been better with LeBron sitting recently, but those are still staggering splits.)
CBS Sports HQ Newsletter
Your Ultimate Guide to Every Day in Sports
We bring sports news that matters to your inbox, to help you stay informed and get a winning edge.
Please check the opt-in box to acknowledge that you would like to subscribe.
Thanks for signing up!
Keep an eye on your inbox.
Sorry!
There was an error processing your subscription.
We've seen Vogel bench Westbrook in the fourth quarter at times, and it would be hard to fault him for seeing if such a move would be successful at the start of games. Recent reports that the Lakers and Westbrook want to part ways in the summer, and Vogel's own potential job insecurity mean there isn't much to lose. Why worry about the ramifications of locker room dynamics and front office politics if you both might be gone in a few months anyway?
Westbrook, for his part, said he's going to continue giving it his all. 
"My expectations are still the same," Westbrook said. "I'm not a quitter. It's not in my genes. I don't quit, regardless of what the hell is going on. I'm going to fight to the end, and if it don't work, that's cool, too. I can live with the results. But I'm never going to give up or give in because of a little struggle that's happening this time of the year."
That relentless mindset has been a major factor in Westbrook's success throughout his career, but there are some things you can't just outwork.