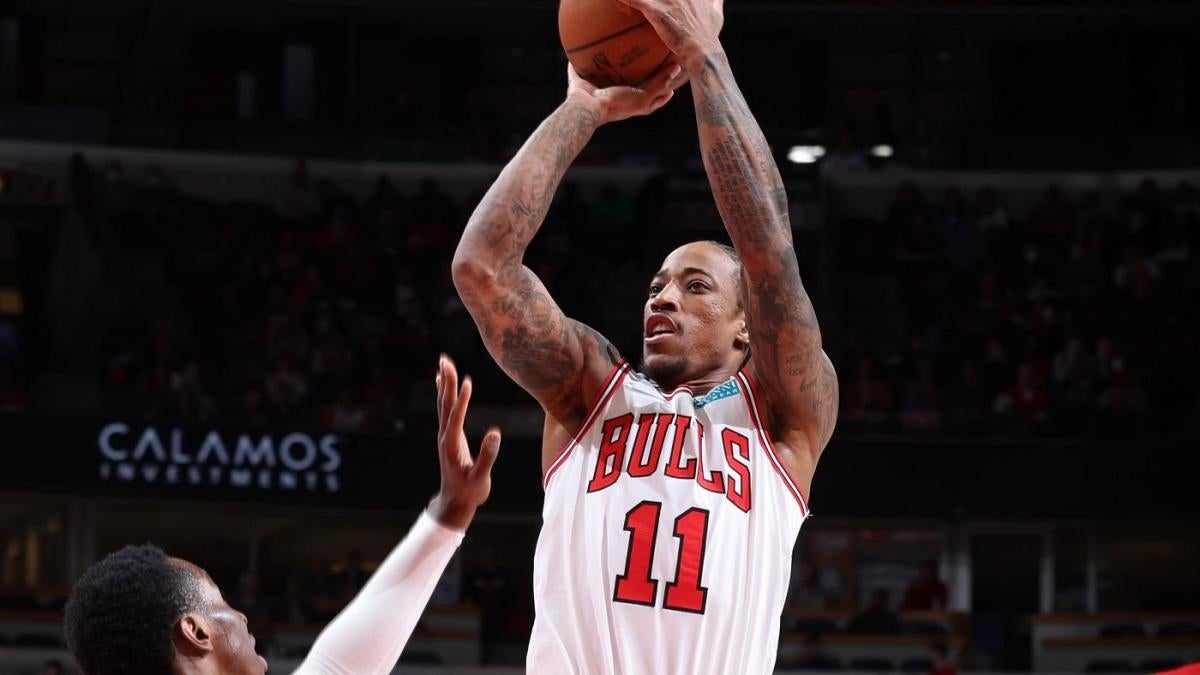 Happy Friday everyone! Congrats on closing out another week.
Let's get right to it.
This is the article version of the CBS Sports HQ AM morning newsletter. To sign up and get this in your inbox, fill out the information below.
CBS Sports HQ Newsletter
Your Ultimate Guide to Every Day in Sports
We bring sports news that matters to your inbox, to help you stay informed and get a winning edge.
Please check the opt-in box to acknowledge that you would like to subscribe.
Thanks for signing up!
Keep an eye on your inbox.
Sorry!
There was an error processing your subscription.
---
Good morning to everyone but especially to...
DeMAR DeROZAN AND THE CHICAGO BULLS
The Chicago Bulls opened their post-All-Star Break slate the same way they spent much of their season before the break: winning thanks to the heroics of DeMar DeRozan. The star swingman knocked down the go-ahead jumper while being fouled with 15.1 seconds left last night as the Bulls beat the Hawks, 112-108.
DeRozan's numbers this season are mind-boggling:
Eight straight games with at least 35 points on 50% shooting --  good for the longest streak in NBA history.
NBA-best 455 points in the fourth quarter this season (Giannis Antetokounmpo is next at... 400.)
56/42/86 shooting splits in the fourth quarter this season -- no one has done that since at least 2002-03 (minimum 200 shots taken in fourth quarter).
The Bulls -- despite injury after injury -- lead the Eastern Conference thanks to DeRozan's consistent excellence, writes our NBA expert Sam Quinn.
Quinn: "So long as the Bulls can keep the game close for 43 minutes, DeRozan has proven capable of winning it for them in the last five. Once his teammates return and he has a healthy roster, he'll make them one of the hardest outs in the playoff field when the postseason finally arrives."
DeRozan opened the season +20000 (yes, twenty-thousand) to win MVP, the same odds as Ben Simmons(!!!) as well as fellow Bulls teammates Nikola Vucevic and Lonzo Ball. As of last night, DeRozan was at +1600, fifth-shortest in the entire NBA. He has been a pleasant surprise for one of the league's most pleasantly surprising teams -- one that just continues to rack up wins.
Honorable mentions
And not such a good morning for...
MAJOR LEAGUE BASEBALL
Sigh. This was supposed to be the week. Five full days of negotiations between Major League Baseball and the players' union and, somehow, some way, a new collective bargaining agreement that would ensure the regular season would start on time.
But here we are at the end of the week, and little progress has been made. In fact, Thursday's negotiation session may have made things even worse.
Many issues remain. Among them are:
Service time manipulation (when teams keep MLB-ready prospects in the minors in order to control their rights for longer)
Tanking (the players have proposed a draft lottery to dissuade it)
Minimum salaries (players want more money here, especially for younger players)
Arbitration and money for a proposed pre-arbitration pool (explained here)
Minor League rosters (players want larger rosters and a limit on how often players can be sent down)
Competitive Balance Tax (explained here)
MLB has said that Opening Day will be pushed back and games will be lost if there's no agreement by Monday. Today marks the 86th day of the lockout, the second-longest work stoppage in baseball history, behind the 1994-95 players' strike (232 days). I wish I could say there's an end in sight.
Aaron Rodgers to make decision 'soon' as teams extend offers